There are many restaurants that serve a fantastic burger, and I am a burger lover. I love almost all burgers--even fast food burgers.
I confess that I am not usually a big fan of cheese on a burger, but that's because "regular" cheese doesn't bring much flavor to the burger. If a burger is going to have cheese, I want it to be Swiss or sharp cheddar or... my
favorite
bleu cheese. *drool*
I also happen to like my burger a little bit rare... pink inside, with oozing juicyness. And that's not something you get most places.
The following recipe incorporates all my favorite things combined to create the perfect burger. It is the most intensely flavorful burger I have ever had and cooked exactly the way I like it.
It's difficult to put amounts because that will vary hugely depending on how many burgers you're making, but I will list ALL the ingredients you will need.
Ground beef (I use an even mix of lean and chuck and you'll need 1/2 lb. per person)
Fiesta brand Uncle Chris' Steak Seasoning
Worchestershire sauce
Fiesta brand Season-All
Cheese (use your favorite... I like bleu cheese, Michael likes sharp cheddar)
Buns (I buy HEB Bake Shop Texas-Sized seeded buns)
Thick-sliced Peppered bacon
Chipotle chiles
Dark brown sugar
Oil
Large purple onion
Oil
Balsamic vinegar
Lettuce
Tomato
Pickles
Mayonnaise
Frozen store-brand steak fries
Mix together the two different types of ground beef and season well with the Season-All, Uncle Chris' and worchestershire sauce. Form the beef into two fairly small patties per person.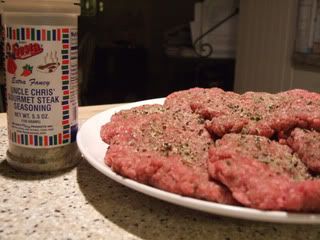 This is before they're stuffed with cheese and molded together.
Prepare the bacon. Preheat oven to 400.
For the paint, I put two chipotle chiles plus some of the Adobo sauce into my little Cuisinart mini-chopper and add in two heaping tablespoons of dark brown sugar and approximately two tablespoons of canola oil. Whiz that together well. Get out your paintbrush.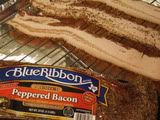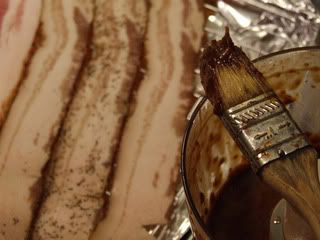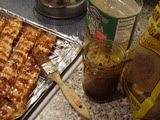 Line a baking sheet with foil and put a wire rack on top of that. Lay bacon strips out and paint each side liberally with the brown sugar chipotle sauce. Bake for approx. 30 minutes depending on your oven. I set my timer for 20 and then keep checking. When it looks done, I take it out (cook it for as long as it seems to need cooking).
Because of the sugar, the edges will look black... that's okay. Also, the bacon will get a bit crispier after you take it out of the oven and let it cool a little. Because it's been baked rather than pan fried it will be kind of sticky... don't worry about that, either. It tastes
divine
, trust me.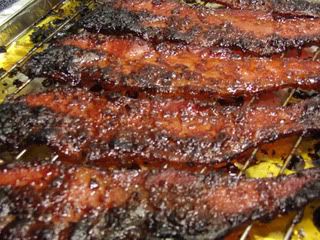 I cannot even begin to tell you how fantastically delicious this bacon is...
Prepare the onions. Get out a large non-stick skillet and put in a little oil. Medium-high heat. I slice purple onion with my mandoline slicer. If you don't have one, just slice it as thin as you can. Once the onions have softened and are starting to get clear, put in a little bit of balsamic vinegar. Cook the onions down until they're rich, dark golden brown. Salt and pepper them and set aside.
After the bacon is done, take it out of the oven and set it aside. Increase oven temp to 450. Spread your frozen steak fries out on a foil-lined baking sheet and spray with non-stick spray. Spray the cooking spray directly on the fries then season liberally with the Uncle Chris' Steak Seasoning and Season-All. The cooking spray helps the fries get pretty and golden. Bake them at 450 for about 30 minutes.
Now for the burgers. Slice up your favorite cheese (or crumble it in the case of bleu cheese). Be sure to season ALL sides of the meat with a bit more of seasonings. Place a small amount of cheese in the middle of one burger patty and then put another burger patty on top. Smush the edges together with your fingers to seal the edges WELL, you don't want your cheese leaking out as the burgers cook.
After the fries are done, turn the oven off and leave them in to keep warm.
I cook our burgers on my contact grill. I preheat it for seven minutes, then cook the burgers for seven minutes. Let the burgers rest for a few minutes after cooking. Grilling these burgers would also be great.
Dress the burgers as you like them. Toasty buns, luscious red tomato, crispy lettuce, creamy mayonnaise. I always spread mayo on each side of my bun and then put fresh ground black pepper on before I stack my veggies on. I put the bacon and carmelized onion on the bottom and the cold veggies on top. Remember to put a little salt on the tomatoes.
Michael likes only bacon and pickles on his burger--bacon on the bottom, pickles on the top.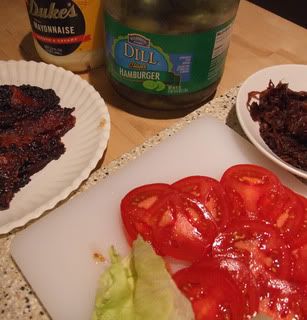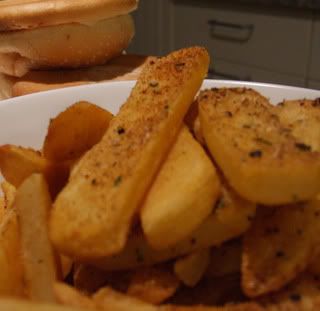 Toasty, warm buns and crispy, seasoned steak fries.
Michael's burger stuffed with sharp cheddar cheese and topped with tangy pickles, sticky bacon on bottom.
It's a tall burger! Open wide!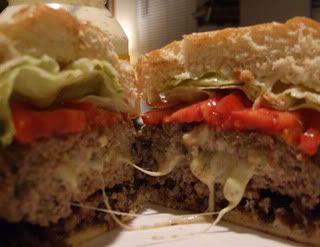 This is my masterpiece burger with rich bleu cheese oozing out of the middle, spicy sticky bacon and sweet carmelized onions on bottom, topped with juicy tomatoes and crisp cold lettuce. *sigh* Happiness on a bun. It doesn't get better than this!